Campsmount welcomes the 2019 Tour De Yorkshire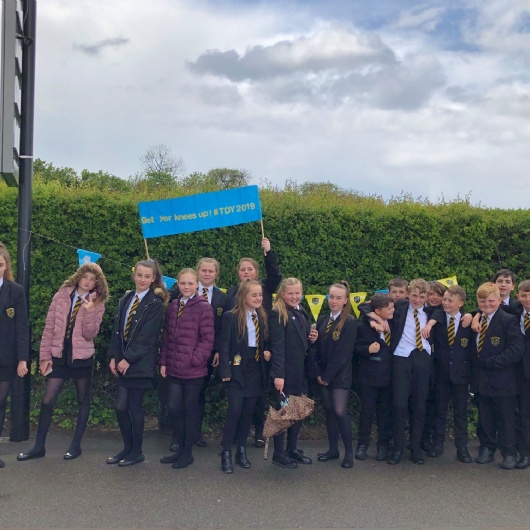 We were really excited when we heard the news that the 2019 Tour De Yorkshire mens race was to pass our Academy on Thursday 2nd of May so much so that we set off on our mission to put Campsmount, part of Leger Education Trust, on the map!
In the build up to the event a number of students from years 7-9 and staff created eye catching bunting, art work and spray painted bikes which were then put on display at the front of our school in time for the race.
Mrs Phillips, Head of Technology said "Working with the students was a pleasure, the drive and determination which they showed to ensure that their school was proudly represented on the Tour de Yorkshire footage was heartening to see. The students competed to decorate the front of school and the winning tutees were not short of ideas. They worked as a tutor group and built on each others work to create a striking design for the front of Campsmount".
She continued "The pride which they showed when they saw their completed work was outstanding. The way in which all students pulled together as a team was uplifting as they all worked hard and listened to each other in order to complete and set up on time. Students even provided equipment and gave up their free time to work on the decorations. I cannot praise the students enough for their hard work and supportive nature towards both their peers and their School."
Mr Swindles, Art Teacher, with help from Miss Harrison and a number of students, put his vision of a creating a giant moving bicycle on our school field to life. He said "The Art department were excited and honoured to work with other departments within Campsmount Academy to come together to provide a visual centrepiece within our community for the TDY. It showcased our amazing school, staff and students."
Dance students performed in the shape of wheels to make the 'giant bicycle' piece of land art move. This was picked up by the TV helicopter covering the race and broadcast to millions of viewers across the globe. It was brilliant to see! See it here: ITV4 Player
A number of students then enjoyed the spectacle of the Tour de Yorkshire from the roadside and live on TV in classrooms, as it passed directly in front of our academy and featured on TV. Students joined the rest of our community to line the road, wave flags and cheer as the exciting men's race powered past them at 1:28pm.
This event was the third time Doncaster hosted this prestigious international event and it passed our academy as part of Stage 1 of the cycle race.
Are you inspired to get into cycling?
Whether it is part of a cycling club, to ride to school or work or just as a bit of fun to pass away an evening or the weekend with family and friends go to: Cycling in Doncaster and give it a try.