Campsmount Prom 2019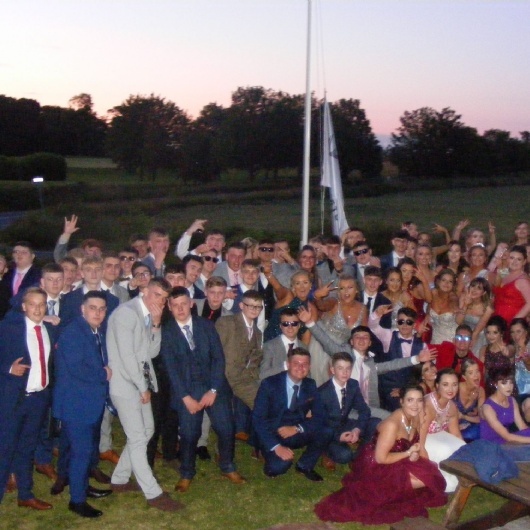 A huge crowd of well-wishers turned out for the Campsmount Class of 2019 Prom on Tuesday 2nd July to witness our Year 11 students' arrivals onto the red carpet.
The evening is a celebration of our students' five years at the Academy and the end of their GCSEs. All the students dressed up in their finest attire and looked fantastic as they made their appearance to flashing cameras and applause. The students arrived in a variety of vehicles ranging from stretch limousines, motorbikes, sports and classic cars!
Year 11's had voted for their choice of student in a range of fun categories and during the evening, Miss Lindley led an amusing award ceremony. Students then carried on with their evening by dancing the night away. Here are the winners:
Prom King – Aydon Desmond
Prom Queen – Olivia Sayles
Next Prime Minister – James Edwards
Next Headteacher – Giulia Mule
Next Top Model – Mia Eden-Richardson
Next Love Island Contestant – Anna Eastwood
Next Famous Sports Star – Charlie Bell
Most Likely to be Beyonce's Next Backing Dancer – Alysha Hobson
Most Likely to get Lost in Disneyland – Eaden Jowitt
Most Likely to work at NASA – Max Campbell
First to Make a Million – James Currie
Comedian of the Year – Spencer Zivkovic
Couple of the Year – Jodie Fraser and Jay Webb
A very big thank you to everyone involved in the organisation, especially Miss Lindley, Head of Year 11. Thanks also to the staff that attended and for everyone's hard work throughout the year with Year 11.
Professional photographs that were taken inside the venue can be purchased and a link will be added to this page shortly.
Most of the photographs that were taken on the night by staff can be viewed in our PHOTO GALLERY area.
A disc containing these photographs (and more) will be given to the students who attended Prom on GCSE results day. We ask for you to contact the school by Friday 12th July if you do not wish to be on this keepsake disc.
Click this link view the Photographs: PROM PHOTO GALLERY