Campsmount Staff Cause a Racket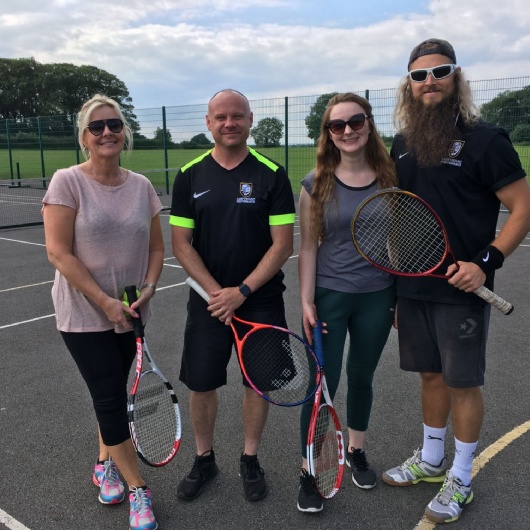 In this season of Tennis the #TeamCampsmount staff decided to battle it out in Campsmount's first Staff Tennis Tournament!
32 members of Campsmount staff have competed in a Mixed Doubles Tennis Tournament. Despite the wet weather they managed to play round one, quarter finals, semi-finals and finals. The teams were made up of teaching and support staff who were all eager to show off their tennis skills!
The semi-finals took place in early July with two matches between Mrs Butterworth & Mr Short v Miss Harrison & Mr Martin and Mrs Simpson & Mr Broad v Mrs Shearman & Mr Mankin.
The finals took place on Monday 15th July between the semi-final winnners, of Miss Harrison & Mr Martin v Mrs Simpson & Mr Broad. Simpson & Broad were winning 5-1, with Harrison & Martin clawing back to 7-7, then 8-8, but finally succumbing to 10-8.
Spectators watched an enthralling game of tennis whilst eating strawberries & cream.
Well done to team 'Brimpsom': Mrs Simpson & Mr Broad who are now the worthy WINNERS OF THE #TEAMCAMPSMOUNT STAFF TENNIS TOURNAMENT 2019.