Experience Triumph's Over Youth in Staff V Student Football Match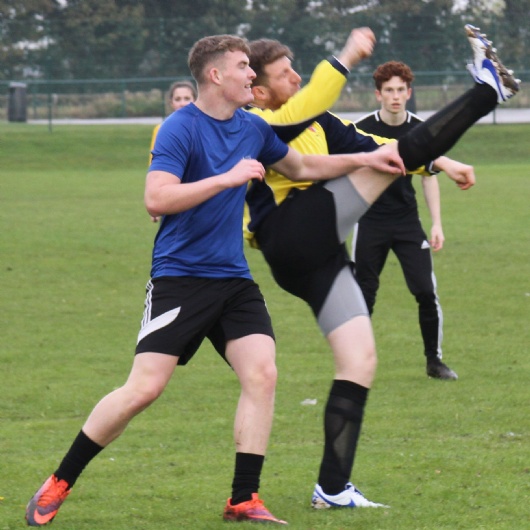 Teachers are celebrating after winning a 'bragging rights' trophy when they won a charity staff v sixth formers football match recently.
Campsmount staff beat the Post 16 team 10-3 in a 'friendly' game at school on Thursday 24th October which was arranged by our Post 16 students to raise funds for our Christmas shoebox and hamper appeal.
Mr Crompton bagged the first goal for staff, just a few minutes after the whistle blew for kick off. The goal took our sixth formers by surprise and Mr Crompton then spent the rest of the game bouncing around the pitch like a ping pong ball.
Piling the pressure on, the staff then scored another 2 with goals which came from Mr Power, then Mr Tyson. Not to be deterred Finley Burkitt powered through the staff's defence and scored a blinder past goalkeeper Nige! Just before the half time whistle blew Mr Sharp, spending most of his time up front, struck the ball past goalie Jordan to make it 4-1 to staff.
After half time, to the Sixth Formers credit, they fought back with strong attacking style and some super goals from Lee Hughes and Jay Webb, but it wasn't enough. Staff scored another 6 and in the end the staff were just too strong for the sixth formers this time. The final score was 10-3.
An absolutely stirling performance by all footballers who showed respect for each other and played in great spirit.
A massive thank you to everyone who took part, to the fans and for donations. Here's to a rematch
Staff Team & Goals: Mr Power (2), Mr Crompton, Mr Tyson (1), Mr Stewart (1), Mr Sharp (4), Mr Bentley (1), Mr Chapman, Mr Makings, Mr Mankin, Mr Martin, Mr King, Mr Swindles, Mr Simpson, Mr Tyson (1), Mr Nigel Short
Student Team & Goals: Charlotte Togher, Liam Massey, Finley Birkitt (1), Jay Webb (1), Lee Hughes (1), Reece Jones, Olivia Sayles, Kayla McAvoy, Claudio Illdefonso, Sam wearmouth, Logan Bamford, Blake Bamford and Jordan Moss