Presentation Evening 2019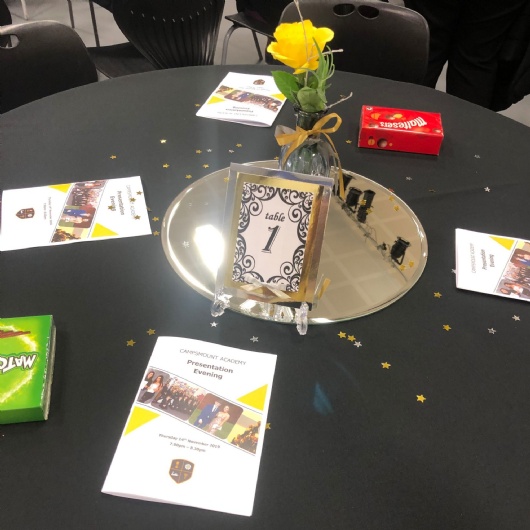 We celebrated the success of our students at our annual presentation evening.
Our 2019 Presentation Event took place on Thursday 14th November to give recognition to students who have excelled in certain subject areas, and to reward special effort made over the previous academic year. Lot of our students and their families attended, including ex-Campsmount students, who came to collect their exam certificates.
Congratulations to everyone who won an award, they really do deserve the praise. It was an excellent opportunity to celebrate the achievements of so many of our wonderful students.
We are delighted to share with you a selection of our Presentation Evening photographs. The names of students who have received an award is also on this web page.
Key Stage 3 Subject Awards
Maths - Kizzy Robinson
English - Kinsley Beazley
History - Sam Mundy
Geography - Fynley Deere
EPS - Libby Januszkiewicz
MFL - Benjamin Holmes
Science - Jessica Bowler
Food Technology - Isabelle Roberts
Technology - Sian Webb
Art - Elise Ramsay
PE - Jay Mathieson
ICT - Charlie Waugh
Music - Jessica Rayner
Drama - Erin Barker
GCSE Subject Awards
Maths - Teagan Appleby
English - Liam Massey
History - Amelia Hutchinson
Geography - Ethan Balaban
EPS - Katie Smith
MFL - Erin Lenane-Jones
Science - James Edwards
Chemistry - Scarlett Williams
Biology - Maddison Tearney
Physics - Sam Jones
Food Technology - Jordan Potter
Technology / Engineering - Lewis Davison
Art - Olivia Sayles
PE - Sam Jones
Dance - Alysha Hobson
ICT - Maisy Adams
Health & Social Care - Katie Robinson
Music - Daniel Holmes
Business - Jess Warris
Drama - Katie Jones
Post 16 Subject Awards
Maths - Bradley Rowley
English - Rhys Elder
History - Rebecca Hall
Vocational Science - Kelsey Brewster
Chemistry - Natasha Hall
Biology - Kirsty Pollard
Physics - Desislava Ivanova
Art - Chloe Coulthard
PE - Jade Walker
ICT - Bailey Williams
Music - Kayla McAvoy
Business - Marcio Ildefonso
Dance - Leah Swatten
Accordion Title
Transition Award for Progress - Ava Laverick
Transition Award for ATL - Betty Coberman
Transition Award Character - Ellis Ward
Transition Award Outstanding Contribution - Daniel Crick
Year 7 Award for Progress - Chen Chen
Year 7 Award for ATL - Taylor Reed
Year 7 Award Character - Evie Eastwood
Year 7 Award Outstanding Contribution - Tilly Green
Year 8 Award for Progress - Jess Bowler
Year 8 Award for ATL - Heidi Hughes
Year 8 Award Character - Alfie Laverick
Year 8 Award Outstanding Contribution - Phoebe Baxter
Year 9 Award for Progress - Emily Lumley
Year 9 Award for ATL - James Warris
Year 9 Award Character - Mitchel Wilson
Year 9 Award Outstanding Contribution - Fraser Watson
Year 10 Award for ATL - Amy Wilson
Year 10 Award Character - Darren Hepworth
Year 10 Award Outstanding Contribution - Ellie-Mae Gillece
Year 11 Award for Progress - Maddison Tearney
Year 11 Award for ATL - Owen Elmore
Year 11 Award Character - Alysha Hobson
Year 11 Award Outstanding Contribution - Giulia Mule
Academy Awards
Endeavour Award for Key Stage 3 - Fraser Watson
Endeavour Award for Key Stage 4 - Keegan Dixon
Russell Group Award for Key Stage 3 - Jessica Crick
Russell Group Award for Key Stage 4 - Sian Webb
Learning Mentor Special Achievement Key Stage 3 - Ami Rae Hennigan
Learning Mentor Special Achievement Key Stage 4 - Lily-May Dodd
Outstanding Academic Achievement Key Stage 3 - Benjamin Holmes
Outstanding Academic Achievement Key Stage 4 - Erin Lenane-Jones
Outstanding Academic Achievement Key Stage 5 - Bradley Rowley
Outstanding Academic Achievement Key Stage 5 - Desislava Ivanova
The Ethan Saunders' Values Award - Amatullah Salau-Deen
Principals Award for Contribution to the Academy Key Stage 3 - Kallum Garbutt
Principals Award for Contribution to the Academy Key Stage 4 - James Edwards
Principals Award for Contribution to the Academy Key Stage 5 - Chloe Coulthard
Chair of Governors Award for Overall Contribution to the Academy - Jaylen Tracey