Official Opening of Our Thrive Room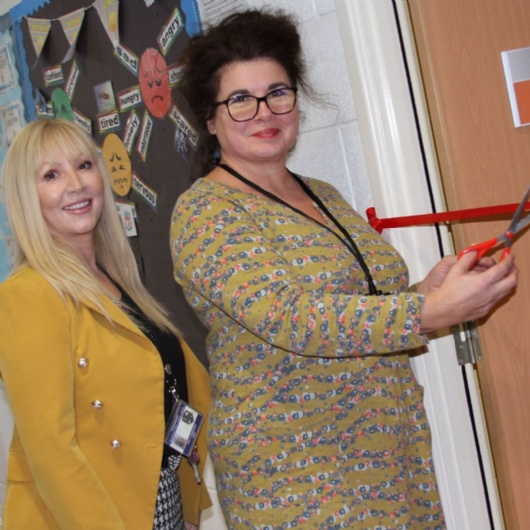 We support students who, for many different reasons, are unable to access some or all of their learning in the main classrooms. We work intensively to raise self-esteem and confidence through a highly individualised Thrive action plan.Thrive is a dynamic, developmental approach to working with children and young people that helps teachers and adults to interpret their behaviour and address their emotional needs.
Our Thrive room provides a safe and enabling environment for our students to access the resources they may need in order to complete their Thrive action plan in a dedicated space where small group and 1:1 support can take place. With the support of Thrive training and Thrive-Online, adults learn how to help children and young people to:
feel good about themselves
know that they matter
become more resilient and resourceful
have a positive place in society
form trusting, rewarding relationships
be creative
be compassionate and empathetic
be thoughtful and self-aware
be productive
be able to overcome difficulties and setbacks
Schools that have introduced Thrive report fewer exclusions, reduced classroom disruption, improved attendance and better educational attainment. Parents report significant improvements in their relationship with their children as well as improved behaviour. The children themselves say that they feel better understood and they get more out of school. They learn to love learning.
Principal of Campsmount, Adam Dale said "At Campsmount we focus on both the mental health and well being and character development of our students. Through this funding from the DFE Doncaster Opportunity Area we have been able to provide an environment where both students and parents feel comfortable and safe and are able to thrive. It has also allowed more students to have access to our truly amazing staff who can support young people and families when they need it most. This can be genuinely life-changing and even through we already currently have the lowest exclusions in Doncaster we can become even more inclusive and supportive".
Joining us to officially open our Thrive room was Donna Kelly, Safeguarding Officer for Doncaster Children's Services Trust, who said "I have been supporting children and families for over 20 years. I am trained in the THRIVE Approach and know how successful this programme is in supporting young people so I am really looking forward to working in Partnership with colleagues at Campsmount".
For more information on the Thrive approach here at Campsmount please visit our Thrive Approach web page.