Campsmount Perform "Little Shop of Horrors"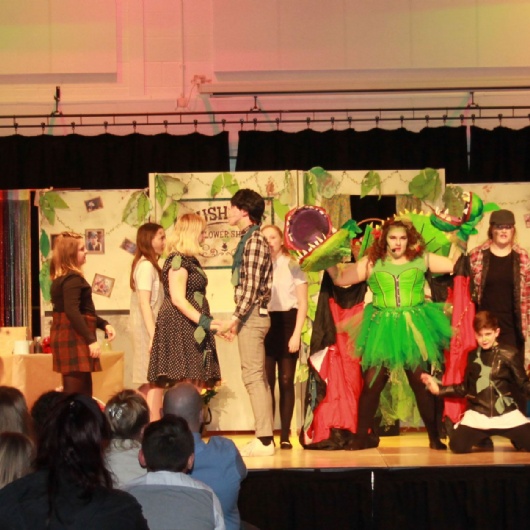 A fantastic performance of the horror-comedy rock musical The Little Shop of Horrors took place recently.
The classic cult show, which saw an alien 'plant' landing in Norton for three days, proved to be an amazing success with lots of visitors coming to see the show over three evenings - Monday 20th January to Wednesday 22nd January 2020.
This school musical was made up of our fantastically talented cast of students from Year 7 - Post16 and the production team was a group of both students and staff from across the school who all worked tirelessly to make the show a huge success.
As massive thank you to everyone who took part in the show and to all who came to support.
CAST
Seymour—Jaylen Tracey
Audrey—Molly Carr/Zoe King
Ronnette—Sian Webb
Crystal—Iona MacFarlane
Chiffon—Simarjeet Kaur
Audrey 2—Giulia Mule
Mushnik—Connor Slater
Orin/Bernstein/Wino—Max Adams
Mrs Luce/Mrs Martin/Chorus-Jess Rayner
Skip Snip/Customer/Chorus—Sadie Hallas
Interviewer/Customer/Chorus—Emily Spreadbury
BACKSTAGE CREW
Maggie-May Holland
Chloe Ellison
Patrick McGowan
Chloe Barker
Cee-Jay Martin
Mrs Green
SOUND & LIGHTING
Kian Dean
Harvey Smith
Mrs Matheson
PRODUCERS
Mrs Green & Mrs Matheson
Choreography
Giulia Mule and Sian Webb
Please take a look at our Album and enjoy the photographs.